FiveBy is a Seattle-based, boutique risk intelligence consulting firm specializing in bespoke solutions to combat fraud and abuse in the IT industry. Like many fast-growing businesses, the company struggled to define its position in the industry and articulate its value to prospects. While members of the FiveBy team had marketing experience and company leadership support, there seemed to be little time or in-house cohesion to develop a consistent marketing strategy.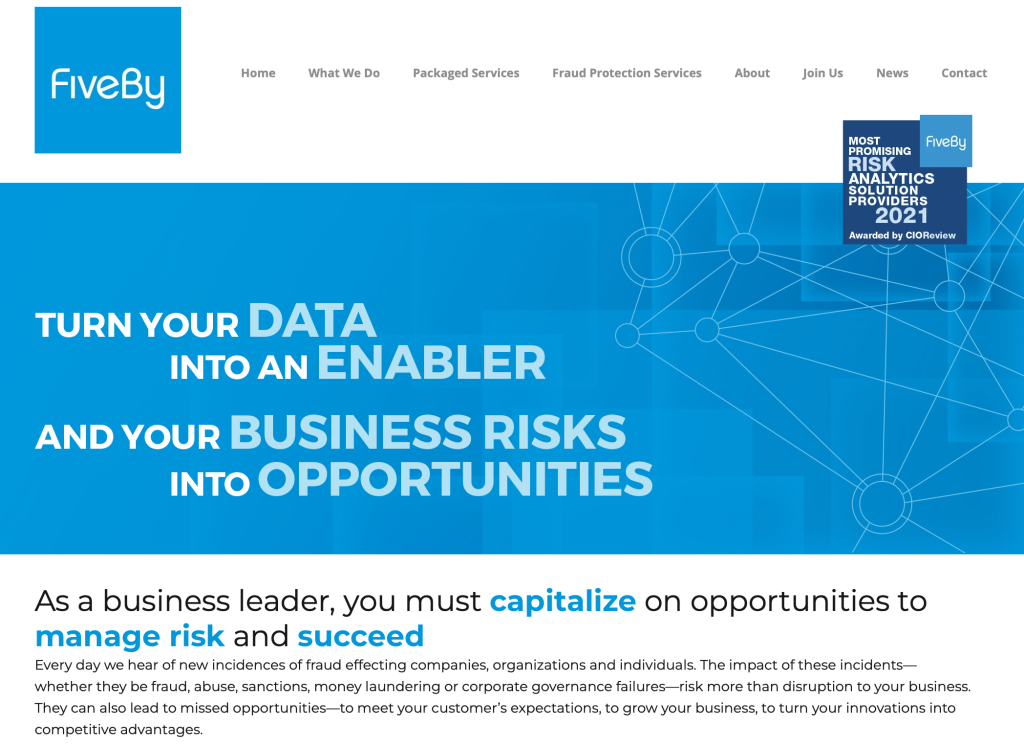 To address this need, FiveBy turned to the Fulcrum Group in 2019 to develop an effective and consistent messaging strategy.
Today, FiveBy views Fulcrum as its "trusted advisor." 
Consistent Message Challenge
Debbie Walsh, Principal at FiveBy, recognized the above challenges and pushed the firm to "get serious" about developing its go-to-market (GTM) strategy. She explains that FiveBy had "twenty different ways of saying who we were and what we did."
Though the company and its employees knew what they were great at and that customers needed their solutions, they did not know how to speak to their expertise uniformly. In addition, the lack of a designated mission statement prevented FiveBy's leadership from agreeing on growth steps.
Ready for a change, Debbie recalled meeting Fulcrum Group founder Ian Hameroff and decided to reach out to pursue an engagement to define the company's purpose and a messaging strategy to inform and guide all FiveBy's future marketing decisions.
Finding Solutions with a Bird's Eye View
Without a clear understanding of mission and value, marketing for any company will be challenging. As such, beginning with a series of workshops and interviews, Fulcrum Group collaborated closely with FiveBy leadership to clarify its "why" (the reason FiveBy existed and for whom) and unique selling point.
According to Debbie, the value of these exercises and working with Fulcrum's Ian Hameroff was almost immediately clear because of "his approach, his calmness, his ability to poke his head above the parapet and look broader using his industry experience."
Debbie describes the benefit of working with Fulcrum, "It was a true partnership. [They] allowed us to think more broadly and look outside-in, instead of being insular. We had made internal attempts to address these challenges, but by working with Fulcrum Group, we could develop something more coherent."
Benefits of Fulcrum Group Partnership
FiveBy's initial engagement with Fulcrum Group led to the development of a company mission statement, cohesive product messaging, and clarified GTM strategy moving forward. These solutions were "immediately implemented" and enabled FiveBy "to inform and drive" how it spoke about itself internally and through all its external communications.
Having a clear company focus frees your business to focus on executing what it does best. 
Time, resources, and money can be better spent on something other than how to approach the next steps in company growth when you can clearly articulate your mission and value.
Debbie explains, "For the first time in FiveBy's history, we have a value proposition that still stands. It is the foundation for how we go to market."
Today, the relationship has taken a step further, with Fulcrum Group providing FiveBy with ongoing GTM support and strategic marketing advisement. According to Debbie, it would "take a long and hard search to find FiveBy the same level of expertise and wisdom."